Sponsored Links
First of all I would like to say happy birthday to one of the greatest pitchers of all time, Nolan Ryan. The man still is a legend in Texas, and I really wish he was still one of the owners of the Texas Rangers.
Spring training is now nineteen days away, and I thought I would start counting down to spring training by talking about some of the positives and some of the negatives I see going into the 2016 season. One of the biggest positives is starting pitcher Cole Hamels.
Hamels joined the Texas Rangers via trade in the 2015 season, and he seems legitimately excited to be a Texas Ranger. He has even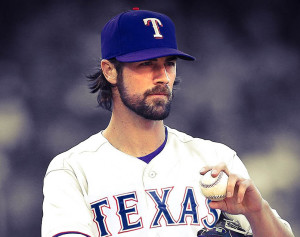 purchased a house in the area according to sources, so it seems like he wants to stick around. Cole Hamels is a true ace, or at least he was when he was with the Phillies, and by what I saw last season I believe he still has the stuff to be a dominate starter in the American League. With the Rangers in 2015, Hamels went 7-1 with a 3.66 ERA, posting 8.4 strikeouts per nine innings pitched. He was great in the post season as well, pitching well enough to win game 5 of the ALDS, but we all remember that the game itself did not end well.
Hamels comes into 2016 ready to go, healthy and knowing that he is now pitching for a contending team.
"I'm pretty comfortable and confident that I will be where I need to be," Hamels said. "I always try to make sure I go off the mound in February. I have a pretty good schedule that by April 1, I'm always good to go." texasrangers.com
Cole goes on to say that he is pretty excited about spring training and feels like this team is going to be very good. I agree with him.
It is always nice to go into a season with a solid no. 1 starter like Cole Hamels, and with the other pitchers that the Rangers will be running out there (Colby Lewis, Derek Holland, Martin Perez, Chi Chi Gonzalez, Nick Martinez, and around June Yu Darvish), the Texas Rangers look to have some solid starting pitching lined up for fans in the 2016 season. Cole Hamels is the key though. If Cole stays healthy and gets his 32 starts in, this team will be in contention at the end of the season in my opinion.
Of course there are always factors that no once expects, but overall I think the first big positive going into the 2016 spring season is #35 getting ready for a full season with the Texas Rangers. This team surprised everyone with a post season appearance in 2015, and I think that it will surprise everyone in 2016 if it does not make the post season.
{ 0 comments }