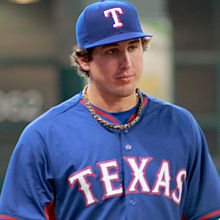 The Texas Rangers have some decisions to make this off-season regarding players. They have a number of free agents that they need to decide on. I know what I think they should do, and all I can tell you is my opinion, so that is what I am going to do.
1. Derek Holland – Derek has been a Ranger for a long time and I personally have interviewed him on several occasions. I really like him, but he is not coming back. He has not been good since his big contract year. I expect the Rangers to let him walk and try to make a roster somewhere else. He has not worked out to what they thought he would be when they gave him all that money. See ya Derek.
2. Ian Desmond – Although I would like to see Desmond wearing Rangers blue and red next season, I just don't see it happening. He is going to get some offers that are more than the Rangers are going to be willing to pay for him. If he really wants to stay here in Texas, he can make it work, but I find the chances very slim. I think he goes to a big market somewhere for a lot of money. The Rangers will need to look elsewhere for another center fielder.
3. Carlos Beltran – Beltran has said that he wants to play baseball next season, and he has said that he wants it to be here in Texas. The Rangers should have interest in signing him if the money is right. He can take the place of Prince Fielder. Will they get a deal done with him? Only time will tell. My thoughts is that there is a 50/50 chance of him resigning with the Rangers. I would kind of like to see it.
4. Carlos Gomez – Gomez is another guy that really enjoyed his time in Texas, and has also said that he wants to come back and play here next season. Gomez is an interesting case. He was really bad with Houston, but really good with the Rangers. Do we know which one we would get with him next season? Nope. Is he worth the risk? I am glad I am not the one that makes that decision. I say there is a 55% chance that he resigns with Texas.
5. Colby Lewis – Lewis does nothing each year but be a consistent pitcher on the mound. He is also consistent in the clubhouse. Colby is a fan favorite, and he is for a reason. People like him. He isn't fazed by anything that happens on the field. He will be back, in my opinion. He was the best pitcher in a Rangers uniform last year. It will most likely be another one year deal, but I think the Rangers will get it done. I give a 90% chance that Colby will be back.
5. Mitch Moreland – Mitch has been a decent first baseman over the years, but not a good one. I don't think he has been good enough to warrant the kind of money that he will want. Mitch probably wants to stay in Texas, but he also wants to get paid. It will be interesting to me to see if anyone offers him any kind of decent money. My guess is that someone will offer him more than the Rangers do, and he takes it. Jurickson Profar, Joey Gallo, Ryan Rua and others can hold down first, or the Rangers might go and get someone else to play the position.
I don't know if I'm right or wrong, but this time of year it is always fun to speculate!
{ 1 comment }