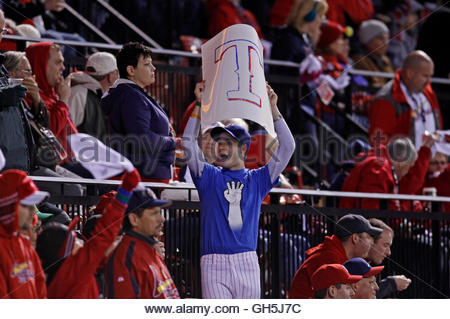 Do you believe in it? I know a whole lot of people that joke that they are the reason their team either wins or loses a game. I've done it. Saturday I put a poll on Twitter asking fans if they would take the over/under on Dyson giving up five runs. Dyson had a 1-2-3 inning and I imeadeatly took credit for his stellar outing, since my hope was that he would succed and prove me wrong.
More than any other sport, baseball fans like to believe we can effect the game by doing certain things. Rally caps. Wearing a certain shirt, socks, or even underwear. We think these things can help our team win. It seems crazy to a non-baseball fan, but we believe.
I can remember standing in my living room during game six, wearing the same shirt I had in every game during the 2010 ALCS. When Nadel called "strike three called, the Rangers sre going to the World Series!!!!" I couldn't help but think that I had a little to do with the series win for my consistancy.
Do we really believe that we, the fans, can really change the outcome of a profesional baseball game simply by wearing or doing a certain thing? That's for each individual fan to decide. Only we know if we really believe that we can. I'll tell you one thing, whether I believe it or not, I will continue to do it!
{ 0 comments }