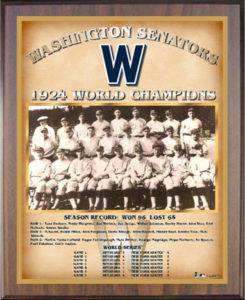 Baseball is about history and tradition; it is a time-honored sport with well over 100 years of stats, player profiles, interesting stories and much more. That history is part of what makes this game so special to so many.
Did you know that the Texas Rangers actually won the World Series? Well not exactly the Texas Rangers, but the former Washington Nationals/Senators did in 1924. I am sure some out there do not remember that the Senators moved to Texas in 1972 and became the Texas Rangers. The Senators had a wily veteran ace pitcher named Walter Johnson who was 35 years old, a couple of hitters in Goose Goslin and Sam Rice, and they defeated the New York Baseball Giant. This was back in the day that teams all had player managers, and the Senators had Bucky Harris at second base to lead the team.
The following is from Wikipedia:
The Senators faced John McGraw's heavily favored New York Giants in the 1924 World Series.[11] Despite Johnson losing both of his starts, the Senators kept pace to tie the Series at three games apiece and force Game 7. The Senators trailed the Giants 3-1 in the eighth inning of Game 7, when Bucky Harris hit a routine ground ball to third which hit a pebble and took a bad hop over Giants third baseman Freddie Lindstrom. Two runners scored on the play, tying the score at three.[12] In the ninth inning with the game tied, 3–3, Harris brought in an aging Johnson to pitch on just one day of rest – he had been the losing pitcher in Game 5. Johnson held the Giants scoreless into extra innings. In the bottom of the twelfth inning, Muddy Ruel hit a high foul ball near home plate.[13] The Giants' catcher, Hank Gowdy, dropped his protective face mask to field the ball but, failing to toss the mask aside, stumbled over it and dropped the ball, thus giving Ruel another chance to bat.[13] On the next pitch, Ruel hit a double and, then proceeded to score the winning run when Earl McNeely hit a ground ball that took another bad hop over Lindstrom's head.[12] [13] it was the only Series triumph for the franchise during their 60-year tenure in Washington.
Walter Johnson pitched for the Senators from 1907-1927. This is another section from Wikipedia: One of the most celebrated and dominating players in baseball history, Johnson established several pitching records, some of which remain unbroken nine decades after retiring from baseball. He remains by far the all-time career leader in shutouts with 110,[2] second in wins with 417, and fourth in complete games with 531. He held the career record in strikeouts for nearly 56 years, with 3,508, from the 1927 end of his career until the 1983 season, when three players (Steve Carlton, Nolan Ryan and Gaylord Perry) finally passed the mark. Johnson was the only player in the 3,000-strikeout club (achieved 22 July 1923) for 51 years (less 5 days) when Bob Gibson recorded his 3,000th strikeout on 17 July 1974. Johnson led the league in strikeouts a Major League record 12 times—one more than current strikeout leader Nolan Ryan—including a record eight consecutive seasons.[3] As a right-handed pitcher for the Washington Nationals/Senators, Walter Johnson won 417 games, the second most by any pitcher in history (after Cy Young, who won 511). He and Young are the only pitchers to have won 400 games.[11] Johnson had a 38–26 record in games decided by a 1–0 score; [13] both his win total and his losses in these games are major league records. Johnson also lost 65 games because his teams failed to score a run. His earned run average of 1.14 in 1913 was the fourth lowest ever at the time he recorded it; it remains the sixth-lowest today, despite having been surpassed by Bob Gibson in 1968 (1.12) for lowest ERA ever by a 300+ inning pitcher.
In a 21-year career, Johnson had twelve 20-win seasons, including ten in a row. Twice, he topped thirty wins (33 in 1912 and 36 in 1913)
In 1936, Johnson was elected into the Baseball Hall of Fame as one of its "first five" inaugural members. His gentle nature was legendary, and to this day, he is held up as an example of good sportsmanship, while his name has become synonymous with friendly competition.
Walter Johnson one of the greatest Texas Rangers to ever play the game, and yes he led the team to a winning World Series. Prior to "Barney" and "The Big Train", Johnsons nicknames arrival the Senators were the worst team in all of baseball, the franchise was horrible again for decades after Johnson retired. The longtime competitive struggles of the team were fictionalized in the book "The Year the Yankees Lost the Pennant", which became the legendary Broadway musical and movie "Damn Yankees" (starring then "heart-throb" leading-man actor Tab Hunter).
It is interesting to note that a bad hop due to a pebble and a catcher tripping over his mask are noted within this history. For those of us still upset with game 6 of the Series against the Cardinals and if Nelson Cruz could have played two steps to his left always remember in the immortal words of Ron Washington, "that's the way baseball go".
As we move further into this 2017 season it is good to know that this franchise has actually done something that even the Chicago Cubs had not been able to do in over 100 years and that is win a World Series. However, 93 years is still a long time to wait and that is why those of us that are true fans celebrate the journey every year, and know that bad bounces with mistakes happen as the God's of baseball are very fickle. Do Cole Hamels and Yu Darvish compare to Walter Johnson? Probably not, but in this modern era having two aces is rare, and having a ton of bats helps too. After all there has never been a pitcher in history except Johnson that has lost 26 games by a score of 1-0, talk about lack of run support! This 2017 team has a lot of talent. Hope Springs eternal, and maybe this is the year the Texas Ranger World Series drought finally ends!
{ 0 comments }