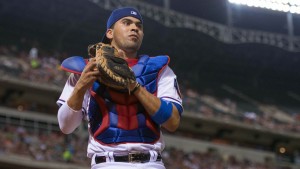 The Texas Rangers have already made some off-season moves and have officially made their 40 man roster. We all know that will be subject to change depending on any more players or prospects that they may bring in over the winter months.
One position that I believe the Texas Rangers need to look for more help over the winter is at catcher. Robinson Chirinos, while he did a pretty decent job last season, but I don't know that the Rangers see him as the long term answer in my opinion. The only back up the Texas Rangers have right now is Chris Gimenez, whom I happen to like, but he is not a future all-star or anything. The Texas Ranger also have Brett Nicholas and Patrick Cantwell at Round Rock. So who will even be available this off-season?
There are a lot of former Rangers out there right now, names like A.J. Pierzynski, Geovany Soto, Carlos Corporan, and Jared Saltalamacchia, but I am not sure that the Rangers or Rangers fans would be interested in any of those players. Another name out there is John Jaso. Jaso does not have a lot of power at the plate, but he is pretty consistent with a .263 batting average.  He has a .992 fielding percentage behind the dish but he only catches 17% of runners. He would still be a veteran presence to consider in the off season.
Another name to consider for the Texas Rangers is Dioner Navarro. He has a career .255 batting average, and he hits a few more long balls than Jaso with his average being 13 per season. He has a .992 fielding percentage and he catches 29% of potential base stealers. Navarro was most recently with the Blue Jays.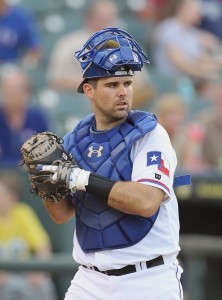 My opinion (in case Jon Daniels wants it) is that the Rangers should go with Chirinos as the number one catcher and either bring in a Jaso or Navarro as a veteran prescence or let Gimenez and maybe Nicholas get a shot at being the backup. Nicholas has been in Round Rock for two season and played very well there, and I think he deserves a look at the big league level at some point soon. It will be interesting to see what they do at catcher this off season.
{ 0 comments }