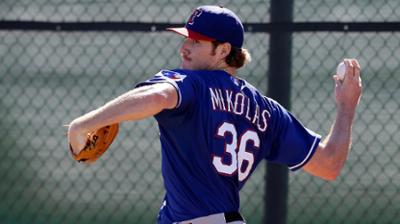 This season has been a dreadful one for the Texas Rangers baseball club and their fans. It has been hard to watch some nights, and other nights it has been just plain disappointing. There have been the occasional nights where it was fun, but lets face it, those have been few and far between in 2014.
Rougned Odor, Leonys Martin, Daniel Robertson, Roman Mendez and others of the young players have been fun to watch grow into major league players right in front of us, while veterans like Colby Lewis and Yu Darvish have been trying to hold down the rotation with the youngsters like Miles Mikolas and Nick Martinez.
So why watch Texas Rangers baseball for the rest of the 2014 season? Glad you asked.
1. Because you are a true fan. Most of the 2010 Texas Rangers fans are gone, jumping off the bandwagon as quickly as they jumped on. We need to show that segment of society that there are some of us that watch because we love the Texas Rangers, not just because we love winning.
2. To support the team. I can only imagine after playing in front of 45,000 screaming fans for the last 4 seasons, it is disappointing for the Texas Rangers to show up to a ballpark on a Sunday and have less than 30,000 fans in the stands. We need to show our team that we still care.
3. To watch the youngsters develop. Especially this time of the year, when all of the September call ups are about to invade Arlington and get some playing time at the major league level. It is always fun to watch.
4. So you know more than your work friends. In 2015 your work friends are going to ask you "Who is Phil Irwin?" or "Where did Roman Mendez come from?" and you will be able to tell them that they should have paid attention in 2014 when these guys were becoming stars. It is always fun to rub things like that in co-workers faces.
5. Because it's Baseball! We love baseball because it's baseball, plain and simple. We need to keep watching becuase we love baseball. I know that I will watch the rest of the season, why don't you join me!
There are plenty more reasons for you to watch the Texas Rangers, but these are just five to get you started on your way to enjoying the remainder of the 2014 Texas Rangers baseball season!
{ 0 comments }