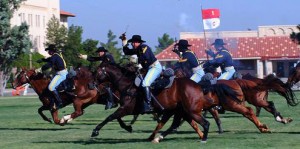 As the Rangers struggle and fight to bounce back from one of the most historic horrible April performances in franchise history, there might be reason for a glimmer to be extremely cautiously optimistic.
Josh Hamilton officially has made his return to the team, and while nobody has a clue what that actually means, if he even performs to last year's level with the Angels, that might be an upgrade to what we have seen so far in the outfield. There are three scenarios that many others seem to be discussing with regard to Josh. One, he is injured quickly and makes no impact. Two, he becomes the Mike Napoli of this year's team, hitting around .230 with 15-18 home runs, and 50 RBI. Three, he hits around .270, hits 20 out, and knocks in 70 to 80 RBI in the last 120 games or so. At this point all but option 1, would be a blessing.
However, suddenly, a batting lineup of Choo (who seems to be finally coming around), Fielder, Beltre, Moreland, and the emerging DeShields is a much scarier lineup in consideration of adding Hamilton. While Carlos Corporon and Robinson Chirinos, may or may not ever pass the Mendoza line in batting, they are doing a brilliant job working with pitchers, and their defense has been stellar. The combination of speed and power should finally begin to produce the kind of offense Ranger fans have grown to expect. It also, produces a much deeper bench than the original 25-man group that started the season.
The bullpen has begun to dig its way out of a complete disaster, and that started with the demotion of Neftali Feliz in the role of closer. He clearly has some sort of health issue, officially listed as an abscess on the right side, but at least this gives him opportunity to go work on his mechanics and get better. Meanwhile, S. Tolleson has moved to the closer role and so far so good. Manager Jeff Banister and company have done a fabulous job piecing this puzzle together.
The other good news is that currently the starting rotation is ranked in the top six in the American League. Gallardo, Lewis, Martinez, and Rodriguez have been solid; maybe not dominate as a group but solid in consistent performance. Another piece of good news is that the team has the highest batting average in the American League for the month of May and 3rd in all of MLB. They are tied for the most Home Runs in all of MLB for the month of May too.
The interesting part of going forward as the team returns to the .500 winning percentage mark, something most everyone considered impossible just a couple of weeks ago, is that the team may have more help coming. Martin Perez, and Matt Harrison both are still in extended spring training, and both seem to progressing well. Even the consideration that Harrison could return is very exciting. It seems likely that one or both, baring no setbacks could move to the minors to test that progress soon. Derek Holland is not supposed to throw for 4-6 weeks, and that dates back to 4/10, which means theoretically he could begin rehab assignment in the next 2-3 weeks. There is no rush on these guys, as the franchise has a lot of money invested in each of them, but it is possible one or more of them could return after the All-Star break. Meanwhile, others like Kyle Blanks, Ryan Rua, Ross Detwiler could also return possibly later in the year.
That all sounds great, but in most people's view the biggest problem still facing this team is up the middle between Shortstop and Second base. Elvis Andrus has been a disappointment, his error rate is horrible, and his hitting has not been there either. He is a great clubhouse guy, and maybe he can turn it around, but so far, his play has been inconsistent. Roughned Odor, suffered the sophomore slump and was sent to the minors to work it out, and in stepped Thomas Field. Field has been better at the plate, and in the field than Odor, but nothing spectacular. One idea being floated is that Delino DeShields originally was at 2B, and then moved the outfield, it is at least a consideration that he might be able to still play at second. Somehow, a line from the movie Money Ball comes to mind when Billy Beane was trying to convince the guy to play 1B. He said, "First Base is easy", and then the character representing Ron Washington when asked to agree says, "It is incredibly hard". It would be great if DeShields could play second though, and he is quickly becoming a fan favorite!
The bottom line is that somehow the team has crawled and clawed their way out of the cellar, and seems to be improving. There might be pitching help coming, there are still issues, and nobody knows if the cavalry will show up in time, or if the team can continue to drive through adversity and develop a team of character. A quarter of the season is over, there are many questions remaining, but for those of us living in our Pollyanna worlds, there is reason for extreme, cautious, optimism. May has certainly been better than April has, and the team has to be better than their 6-13 home record if things are to continue improving. In the meantime, based on the past couple of weeks it seems like someone has sounded the "Boots and Saddles", and the team is kicking it in gear!
{ 0 comments }