br />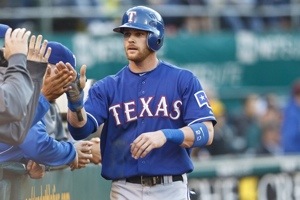 The Texas Rangers have been a busy club this off-season since the retirement of Nolan Ryan. Of course we all know the big moves like getting Prince Fielder for Ian Kindler or letting Joe Nathan and David Murphy go. But has it been a good off-season?
Honestly, only time will tell in the long run. Murphy may blossom into a great outfielder for the Indians, and I kind of hope he does. I have always liked David. Kinsler is a good second baseman and I think he will do a good job for the a Tigers, and so will Joe Nathan. But I also think Prince Fielder with that short right field porch in Texas will be pretty good as well. I am hearing a lot of good things about Choice, I am just not sure he will be as good as Craig Gentry at first. Gentry has serious speed. I am told that he will be good in the long run though.
So what is going on with our Rangers. Almost all of the position players from the 2010 World Series run are gone, and the pitching staff has turned over a little bit as well. I don't think we will know for a while if this was a good off-season or not, but I am happy with the fact that the Rangers are not just sitting on their hands this off-season.
With the winter meetings starting next week, it should be a lot of fun for writers like me and fans like you. So let's debate and have some fun over the next few weeks and months. And be sure to check out the other blog I work for over at NolanWritin.com. Thanks and go Rangers! <
{ 0 comments }