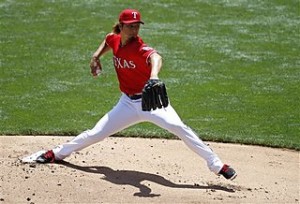 In the movie Groundhog Day, Bill Murray is forced to face the same day over and over again. Every time he wakes up, it's still the same day. I feel like the beginning of spring training 2015 is sort of like that for Texas Rangers fans. The 2014 off season began with the Derek Holland news and the season ended with the Rangers having one of their worst seasons in franchise history. It seemed like everyone was injured and Ron Washington quit due to personal reasons. Rangers fans couldn't wait for the miserable season to end.
Fast forward to 2015, and we learn that Jurickson Profar is going to miss another season because of his shoulder. No biggie seeing that Rougned Odor has taken his place as the every day second baseman. If the injuries would have ended there, I would not be having flashbacks of 2014, but as we all know the injuries did not stop there. The news broke that Yu Darvish may need Tommy John surgery, and the internet almost broke from the news, rightfully so I might add.
The Texas Rangers were going to have a tough time winning the West (in my opinion) even of Darvish was healthy, but take him out of the mix, and panic hits the streets of DFW. I am beginning to feel the same sense of dread that I felt as the 2014 season got underway. Now I know that anything is possible, and I know that the Rangers may bounce back and have great season without Yu Darvish in the mix, but I am just not confident about that. The things that I do not want the Texas Rangers to do are:
Overreact and sign a big name free agent pitcher for a bunch of prospects. I would hate to see the Texas Rangers go out and pick up Cliff Lee or Cole Hamels because they feel like they now have to. I don't think they have to, I think they need to go with what they currently have on the team.
Trade Adrian Beltre. Adrian Beltre is my favorite Texas Rangers player by far, and I would hate to see him finish his career anywhere else. I know that he wants to be on the Rangers only if they are not in rebuilding mode, so I hope they do not go into rebuilding mode.
Hold out on the surgery. Players who are said to need Tommy John surgery usually need to have the surgery. The wait and rehab method will only put Yu Darvish out for 2016 as well in my opinion. I think the Texas Rangers need to schedule Darvish for the surgery as soon as possible so that he can come back at some point in 2016, just like Martin Perez is going to return sometime this season.
The Rangers took a big hit, and I feel like we have been here before. I just hope that the season itself is not groundhog day as well.
{ 0 comments }