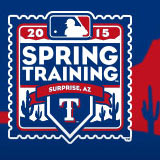 The Vega early odds are released (http://i.imgur.com/lLBXsuK.png) before training camp even starts. Everyone agrees they will be revised once spring training is over, just before the season begins. However, the early results are very interesting for Ranger fans.
The Texas Rangers as we all know finished last season with a 67-95 record. Vegas thinks that the team will be 10 wins better than last year with and over/under of 76.  Sadly, they project them as the 28th best team in all of baseball.  Everyone wants and expects the Rangers to compete, and there could be some serious arguments both for and against the Rangers winning 90 games and being in the hunt.
It is easy to see what Vegas is thinking. The team lost 95 games, they had a ton of injuries, and there are more questions than answers for the entire team at every position. When you invite 62 players to spring training, and announce to the world that 11 players are competing for left field, that raises eyebrows.
The starting rotation is not set, and in fact, the only positions that really do seem set are 3B Beltre, 2B Odor, SS Elvis, and CF Martin. There is no doubt that Yu Darvish and Derek Holland are the keys to the rotation, but nobody has a clue about the bull pen. There are candidates, there are prospects, there are some good quality guys, but nothing is set in stone. Odds makers like clear projections and the Rangers just do not have it and will need all 6-weeks to figure it out.
On the plus side this is essentially the same team that left spring training last season that Vegas projected with an over/under of 85 wins.  The biggest losses are Martin Perez and Matt Harrison, both starting pitchers who should have given the Rangers one of the best starting rotations.  John Daniels has made a few minor trades and is looking to develop talent internally to account for those lost.
It is always easy to find the negative, but sometimes harder to find the positives. There are two big positives to the bull pen in the return to form of Neftali Feliz, and return from injury of Tanner Scheppars. Feliz was the top rated closer in all of baseball before the Rangers tried to make him a starter after blowing game 6 of the Series. The same thing happened to Scheppars, and both are back and will be performing where they belong as set up and closer.
On the offensive side, all indications show that Choo and Fielder will both be back and completely healthy. If that is true then go ahead and pencil in 45 long balls between those two. There is every reason to believe that Beltre will perform as he has, and Elvis is now motivated because he will have pressure to perform or become trade bait.
It is completely reasonable to project that the team ERA will be at least .75 runs lower than the monster 4.57 team last season that was 28 in all of MLB. The other number that seems to be ignored is the Rangers had the 8th best batting average in MLB last year. The problem was/is can they get the RBI. The team hit only 111 home runs last year, and that has to improve. That is where Fielder and Choo figure to make the difference.  The team must improve in the running game, and defensively too.
The bottom line is that between the DH, 1B, and RF, the Rangers need 55 home runs. That means Fielder, Moreland, Choo, and Rua all need to just perform as their historic numbers show they can. Fielder needs to hit 25-30, Beltre 20, and if everyone else does their job that will add 45 more long balls to that 111 total.
It is going to take all of new manager Bannister's efforts, but it is my belief the talent is there. The trick will be finding a team identity, creating a chemistry that works, and putting pressure on everyone to perform at a high level.  When you think about evaluating 62 guys, and trying to trim that down to just 25 that actually make the team, the task is daunting.
Vegas sees all that, but what they look at is who is projected in the lineup, and correlate that to wins.
One of the biggest concern that some have mentioned but few are talking about is that other than Beltre, the Rangers do not have a big right-handed bat. They are loaded with lefties, which is great until they run into left-handed pitching.
Personally, I think the Rangers will be better than 76 wins, I am still not ready to predict anything, until we see what Fielder and others do in spring training there is no way to know. If I have a complaint for the team it is that they are over reliant on him to provide the team offense. One of the great things about the championship caliber teams of old, was that there were at least five guys who could step up and end a game with one swing. In a close game that is huge.
What we all need to see in spring training is the emergence of others, to reduce the team having to lean on a player who spent all last year on the disabled list. Until then it is hard to argue with Vegas, but hope springs eternal and spring training brings all things new and exciting.  I hope you are as excited to get this all started as I am, trying to keep up with 62 guys is going to be hard, but let's get the party started!
{ 0 comments }