Sponsored Links




Tonight the Texas Rangers defeated the Toronto Blue Jays generally drama free. Most of the talk leading up to tonight's game was centered around Jose Bautista and if the Texas Rangers were going to try and peg him for his "bat flip heard around the world" last fall during the ALDS.I, for one, am glad that the Rangers defeated the Jays instead of plunking a player to get revenge for a home run hit over six months ago.
I know that baseball has some unwritten rules, and some of those are related to showing up a pitcher or showing up a team, and yes, I was a little upset last fall when the incident happened, but I now believe that a much better way to get back at Bautista is to do what they did tonight, keep him off the bases and don't give him anything to hit. A.J. Griffin was excellent tonight, going 6 innings and striking out a career tying nine batters, and the heavy lifting on the offensive side was done by two gentlemen who were not even supposed to be on the team, Brett Nicholas and Nomar Mazara.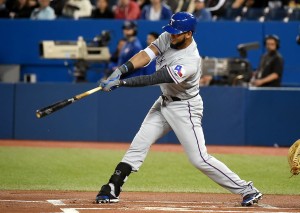 Mazara is really showing Rangers fans and Rangers brass eveywhere that he belongs at the big league level, even though he has just turned 21 years of age. Brett Nicholas is also showing that his time may have arrived to be in the bigs, as he now has two home runs and his behind the plate ability has been excellent. Mazara not only did it tonight with the bat (he hit the game winning home run), but he threw out the potential tying run in the late innnings.
The only down side to tonight's game is that last years darling Delino DeShields had a bad night on the bases and looked lost at times on the field, making it appear that he may be headed for a trip to the minors once Choo returns from the DL, because I don't see how the Rangers could send Mazara down right now with the way he is playing.
The Texas Rangers have three more games to go against the Blue Jays, and it should be a fun series to watch, I am just glad they decided to win the game instead of "repay" Bautista for getting over excited for what may be the biggest home run of his career. Time to keep the good times rolling!
{ 0 comments }