Sponsored Links
The longest home run it Texas Rangers ballpark history was hit today by the youngest player in the major leagues: Nomar Mazara. The ball traveled 491 feet, the longest home run of the year in all of baseball so far.
"It was a majestic home run, I'm happy for the kid," Jeff Banister said on Wednesday.
The home run replaces the one hit 476 feet earlier this season by Giancarlo Stanton of the Miami Marlins. Mazara was known as a very high prospect, and it now appears that he is not going back down to the minors any time soon. Mazara is hitting .320 with 8 home runs and 21 RBI in 39 games with the Rangers this season. His batting average is second on the team, only behind newly re-acquired catcher Bobby Wilson, who has only appeared in 13 games for the Rangers so far this season, but has two grand slams to show for it.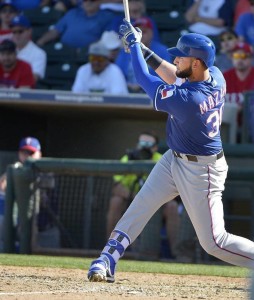 Nomar Mazara is truly having a great rookie season, playing well in the field and hitting well at the plate. I see no reason why he will not be, if he is not already, a mega superstar in this league. Minor league scouts have been raving about the guy since the Rangers picked him up, and now major league guys are doing the same. Remember, Nomar just turned 21 a few weeks ago.
The fact that Shin-Soo Choo is hurt, and Josh Hamilton is out for the entire season is going to be a lot easier to take knowing that the Rangers now have Nomar Mazara to man left field. This season is turning out to be quite an entertaining so far!
{ 0 comments }