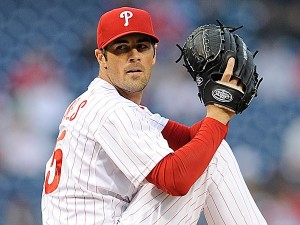 The Texas Rangers are still in talks with the Philadelphia Phillies about stud left hander Cole Hamels, according the Gerry Fraley of the Dallas Morning News. The Texas Rangers haven't made a lot of moves this off season, and it would be nice if they could add a impact arm like Cole Hamels. According to Fraley,
"Hamels, 31, has worked more than 200 innings in six of the last seven seasons."
Cole Hamels would make a lot of sense for a team that is not real strong behind the top two spots in the rotation. Yu Darvish and Derek Holland are going to be good, but after that we are all hoping that Colby Lewis will be good and Martin Perez will return to being good when he returns late in the 2015 season, but on the depth chart the Rangers have Ross Detwwiler and Nick Tepesch slated for the 4 and 5 spots.
Cole Hamels is owed a lot of money from the Phillies, around $96 million to be exact, and the hold up is that the Texas Rangers are wanting Philadelphia to pick up some of that bill. I hope that a little bit of money doesn't break a deal that could be good for the Texas Rangers depending on who they would have to give away. Who would you give up for Hamels? Would you be willing to trade a Jorge Alfaro or Nomar Mazara? Joey Gallo? I may be willing to part with one of the top prospects, but I am not sure what the Phillies will take to move Cole Hamels, but I am guessing it will be a pretty big haul. We will keep our eyes and ears open and let you know if anything happens on this front. Remember, pitchers and catchers report on Feb. 20!
{ 0 comments }