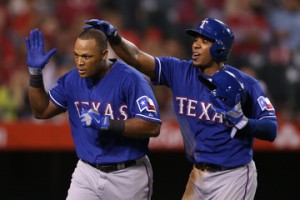 Adrian Beltre and Elvis Andrus were the glue that held a ever changing infield together for the Texas Rangers in 2014. Beltre had another stellar season both at the plate and on the field while Elvis struggled at the plate early but wound up turning in a pretty decent season overall. The Rangers also have a third baseman in waiting behind Beltre in Joey Gallo, but it will still be a year plus before he is ready to play everyday in the majors.
The rest of the infield for the Texas Rangers in 2014 was in flux for the first half of the season. First base was a disaster, and the Texas Rangers, after the Prince Fielder and Mitch Moreland injuries, had to rotate in and out all kind of players that had either never played the position before or that were not what they once were. J.P. Arencibia, Carlos Pena, Donnie Murphy, Adam Rosales, Mike Carp, Brad Snyder, Jim Aducci, just to name a few. The Rangers signed Prince Fielder to be that power hitting first baseman that they needed, but it just didn't work out in 2014. The Texas Rangers have to be concerned going forward that Prince may not be the same player that he was in Milwaukee or in Detroit, so they should probably keep Mitch Moreland on the roster just in case. Technically though, first base should be covered going forward.
Second was much of the same for a while, with Josh Wilson, Donnie Murphy, Luis Sardinas, Adam Rosales, and Rougned Odor. Odor made himself the everyday second baseman about mid way through the season and proved that he belongs in the bigs. The Texas Rangers also have Jurickson Profar waiting in the wings, but I think his time as the chosen one may be at an end. Rougned Odor is going to be the Texas Rangers second baseman going forward unless something drastic changes that. He earned it, and I think he will get it. The Texas Rangers will still need a good utility infielder, though, and I am not sure who that is going to be. It may be Sardinas, it may not. We will have to wait and see how Jeff Banister and Jon Daniels puts this team together going forward.
So that is a look at the Texas Rangers infield. We will see how things work out and we will all hope that the injury bug that bit the Rangers so hard in 2014 will go away and bother another team next season.
{ 0 comments }