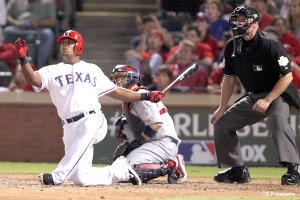 As of today, the Rangers are missing 11 of the projected top 25 guys from the lineup. Choo's twisted ankle added the latest to that number. Yet, somehow Ron Washington has cobbled together 13 wins so far, and this limping bunch of "has been's and never will be's", are firmly in 2nd place in the AL West, and gave the A's all the wanted last night. The fact is they would be leading most divisions with their current record. I think we can all agree that nobody knows how this is going to play out over 162 games, but it is interesting to see the guys merge into a team.
All the injuries are continuing to create dilemma's for this team in many ways. Kouzmanoff comes to mind again as last night he had another 2 for 5 night at the plate and is hitting .370. Beltre is due back this Friday! There is no doubt in my mind that Beltre is the heart and soul of the entire team. So how do you remove a .370 hitter from the lineup? Fielder is showing signs of waking up, and even Moreland has his BA up to .240. Martin has another hot bat as his average is up to .323, and Rios is hitting .325.
My question is can Kouzmanoff play 2B? If he can play third then he can play second. If I were making decisions for the club, it would sure be an experiment I would try. The Rangers still lead the league in intentional walks, so that tells you something, if you eliminate pitching around guys that stops and makes everyone else better. If anyone has an inside line to the Rangers skipper, tell him to start working with Kouz and 2B, and let's see what happens!
{ 0 comments }