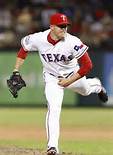 Robbie Ross was not only a starter in the minor leagues, but a pretty good one. He had an ERA under three at every level, and we all know that Ross had a sub 3 ERA in the spring. So should we expect Robbie to look like Tanner Scheppers or Martin Perez? I submit you that he will look more like Perez.
Here is my expectations from Robbie tonight:
5.2 innings
7  strikeouts
2 walks
6 hits
3 runs
I think that his offense is going to back him up tonight, and I do not think it will go down to the wire like it did last night, which by the way was very exciting and also a certain someone called the win, if you were curious.
If it gets to Beltre, i say he walks it off. #rangers

— Ben Dieter (@TheRangerReport) April 2, 2014
And I was right. And I was happy! The Texas Rangers got their first win of the season, and I think that behind Shin-Soo Choo, Adrian Beltre and the rest of the Texas Rangers offense that they will get their second victory tonight before the first off-day of the season. All I can say is that last night was exciting, and I hope that there are many more exciting nights to come!