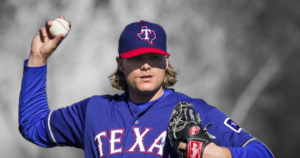 A.J. Griffin is one of the guys trying to make the Texas Rangers rotation for the 2017 season. He gave up six runs on six hits in 2.2 innings pitched, including two home runs. His ERA for the spring is now 10.57. But what do spring training stats really mean? Griffin doesn't think too much of the stats.
"I was working on my offspeed stuff, and I feel really good about the action I'm getting on those. But I didn't establish the inside of the zone with my fastball and they got comfortable," Griffin said. "But for the most part I felt pretty good about [the outing]." (texasrangers.com)
I don't know if I would have gone as far as feel good about it, but I am glad to hear he feels good about the curveball. Griffin does not have the kind of stuff to blow hitters away, so he needs to have his offspeed stuff working well. Griffin has the inside track on the 5th spot in the rotation is Andrew Cashner and Tyson Ross are not ready when the season starts.
Today Yu Darvish takes the mound against the Rockies, and once again do not read too much into spring training stats. I expect him to be working on one or two pitches and that is it. He will get his pitch count where it needs to be and then come out.
The Rangers are 2-8-1 so far this spring. While it means little, I still don't like to see the Rangers at the bottom of anything. Should be a good game today.