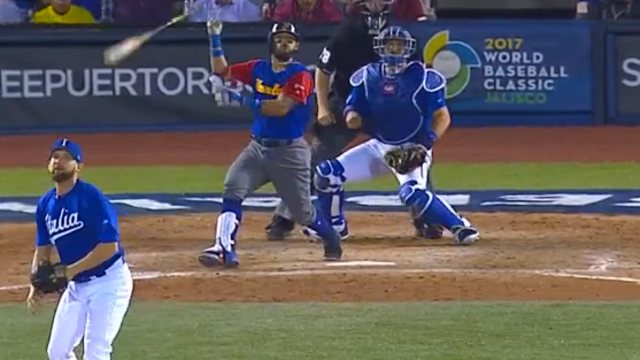 Rougned Odor and Astros Alex Bregman made news a couple of days ago when Odor flipped his bat on a single he thought was going to go yard. It did not go yard, and he wound up looking rather silly.
When Jose Bautista tossed his bat in the general direction of the Rangers dugout and yelled, I didn't like it one bit, but I wasn't mad a Bautista, I was mad that the Rangers blew the series. It was a giant moment for Bautista and the Blue Jays, and there was no surprise that the emotional Bautista reacted the way he did.
Odor is young, he is going to make the kind of mistakes that young players do. He is going to misjudge a long ball. He is going to have errors on easy plays. It's going to happen.
Personally, I don't like bat flipping anymore than I like pitchers yelling at batters when they strike them out, but there is no rule against it. Just be ready when you bat flip on a ball that doesn't wuite make it out. You are going to tick someone off.
The rules don't say you can't, so even though I don't like it, I don't have a problem with it. Flip away! There is nothing wrong with showing emotion during a game. Fans do it. Just peruse twitter sometime during a Rangers game. You will see every emotion known to man in less than five minutes. So lets enjoy baseball, and let players do silly things if they want to. Less than three weeks until we have meaningful baseball!