If you follow the DFW media and other baseball experts, then you have seen and heard them call on John Daniels to trade Yu Darvish.  They think he has more value in potential young talent acquisitions and criticize his pitching.  Personally I believe the so-called expert sports guys must be having way too much Cuervo Gold!
The DFW sports writers all believe that John Daniels is the greatest GM in the history of this franchise, and he may be. However, the greatest move in Rangers history was made by Tom Grieve. He signed Nolan Ryan during a time that everyone said any pitcher that came to Arlington could add 1.5 points to their ERA and that it was a career killer.
Ryan proved everyone wrong, and you know his history. He then became President of the team, and when his group purchased the Rangers, he had stocked the farm system with an incredible amount of talent. That talent sent the Rangers and their modest budget to back to back World Series.  Oh and the ERA's of the pitching staff was better than at any time in the rebuilt Arlington Stadium's history.
One of the last deals that he helped pull off was bringing a Japanese pitcher in Yu Darvish to the Rangers. What Ryan and his scouts did was develop a huge base of contacts in Japan, and the Latin Leagues which allowed them to find a whole bunch of guys flying under the radar of everyone else.
Do not for a second underestimate the value that Ryan had in bringing Darvish to Texas. His scouts kept up with guys like Colby Lewis who was well-respected in Japan.  They signed Lewis, and that paved the way to opening the door to Japan. Darvish has been the best pitcher this team has had since Ryan himself pitched here. Yet the idiot sports writers want to trade him? For what? You think you are getting another Darvish in a trade. Crazy.
So why is Shohei Ohtani important? He is a once in a lifetime player who throws 100 mph, and bats cleanup for the Ham Fighters. Check out this article for more: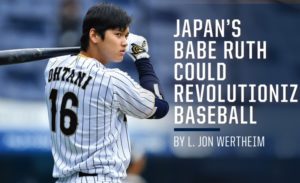 http://m.mlb.com/news/article/222868698/shohei-ohtani-could-be-in-mlb-in-
Ohtani lists Yu Darvish as one of his most looked up to players, and if you read other posts through the web it turns out they are good friends. Now the interesting part, if you believe what folks post on the web, he wants to be on the same team as Yu.
Ohtani could very well be the next Babe Ruth. He can pitch, and bat DH, allowing a team to almost get a 2 for 1 deal. All of this probably hinges on where Darvish signs. The Rangers have a unique unprecedented opportunity with this situation because Darvish would like to stay in Texas, but he wants to get that big contract.  Just like certain NBA players who want to play together this is really no different.
So where is the Darvish contract? I highly suspect that Daniels is afraid because his last two big deals were busts in Sin Soo Choo, and Prince Fielder. He simply does not want to pay Darvish a $150 million contract, then have to pay for Ohtani too.
Financially, I am not sure the team can afford it because of those other contracts either.  After all as of today this team has about $30 million invested in players who are not actively on the roster today.  My take is that great franchises and great GM's find a way. Ryan would find a way if he to tax every hot dog sold, he would find a way. Daniels needs to figure it out, he needs to get Darvish signed and then sign Ohtani.
Imagine a rotation of Hamels, Darvish, and Ohtani, then you continue to develop the farm system. Oh and I would trade Profar to the Mets for Michael Conforto, and throw in Rua and a player to be named if you must.
What that does, is open the door long-term for DeSheilds to be your every day center fielder, with Mazara and Conforto all under club options or arbitration until around 2022. That outfield payroll would be less than $1 million a year combined, which is a massive bargain by today's  baseball payroll standards.  That gives the team time to work the big contracts off the books, and allows more time to develop the kids on the farm.
It is a short-term spike in payroll for 2017 and 2018, but after that the team can build around with internal candidates.  That is especially true with this brand new indoor stadium being built, which should pump additional cash into the franchise.
Those DFW guys, know football but that is all they know. The press need to quiet down, and Daniels needs a huge pile of moxy to make it all happen.  If Daniels truly wants a lasting legacy, and the ability to set this franchise up for the next decade this is the once in a lifetime opportunity to do that.  High in risk, and even higher potential reward, and he has the inside track because Yu is here now.  Waiting will allow the Dodgers and Yankees to fight this deal out, when signing Yu now could seal Ohtani coming to Texas.
Who is with me? Let's bring Japanese baseball to Arlington!  We need another name to learn how to pronounce!!!  What's more we need a Japanese Babe Ruth wearing Ranger red, white, and blue!!!!