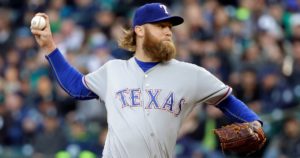 Monday night Andrew Cashner was cruising. He had only given up two hits through 6 innings and his team was winning 2-1. He got into some hot water in the seventh when some errors occurred, and that is when the wheels fell off.
Long story short, the Rangers lost the game 6-2, allowing 5 runs in the 7th inning. The bullpen is a mess. Twitter was all ablaze Monday night with fire Banny banter. The Rangers now sit in last place in the West, tied with Seattle for the worst record at 11-15. Houston just looked like a better team last night.
The Rangers and Astros play three more games in this series. The series could still work out in the Rangers favor, but it probably won't. The Rangers cannot hit or defend, and the bullpen can't really hold. That's a problem.
April was bad, and the Rangers have lost their only game in May so far. The way last season went with the one run wins, it was bound to be a season without a lot of close wins.
The good news is, as fans, we will still watch. We will still support our team. We will still watch and go to games. But that doesn't mean that we won't complain about it.