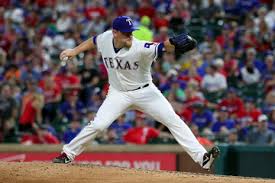 If you would have told me a week ago that the Rangers would come into Washington and sweep the first place Nationals, I would have told you that you were crazy. The Nationals were playing very well, and the Rangers, well not so much. They did however, sweep the Nationals. Today's winner, Austin Bibens-Dirkx continues to be a very nice story for the 2017 season.
Bibens Dirkx is a minor league journeyman that has bounced around a whole lot in his career. The 32 year old has had quite a ride so far. On Sunday in Washington D.C., the right hander out dueled Max Scherzer, who by the way has a 2.35 ERA with 112 strikeouts in 12 starts. For Rangers fans, today was once again something to get excited about.
The team is hitting better, pitching better, and competing better overall. A sweep of the Nationals was not on the menu, but the Rangers ordered off the menu this past weekend!
It goes from hard to harder at this point, as the Rangers next face off against the Houston Astros. The Astros are running away with the West at the moment. We will see if they can keep the good feeling going after the Houston series. I still believe that this team can win second place, I sure hope that I am right.