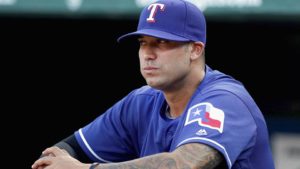 The Texas Rangers put up seven runs runs on Sunday and nine runs on Monday. They only won one of those games, and just barely. The Yankees came back from a large deficit to just fall short by the score of 7-6. Martinez allowed four earned runs and the bull pen allowed two.
Monday night the Rangers jumped out to a 9-2 lead by the end of the third inning. Cole Hamels allowed seven earned runs and walked four, which was still enough to give his team the win. Then the bull pen came in, allowed eight more runs and walked three more. A team should never score nine runs and lose a game.
The Rangers need to address the bull pen issues soon. I have not been a doomsday guy this season, but it is getting hard to watch. The offense is fun, but in the back of my mind I keep thinking they will find a way to lose.
Some bull pen ERA's for your reading pleasure:
Anthony Bass – 14.29
Mike Hauschild – 11.25
Tanner Scheppers – 9.00
Tony Barnette – 7.23
Jeremy Jeffress – 5.46
Not a real good list. The overall ERA of the team sits at 4.37, which is tenth out of fifteen teams. Batting average against is .262, twelfth worst in the American League. The only saving grace is the fact that the team is sitting at .500 at the moment.
The offense is looking good, the defense is playing way better, and the starers for the most part are keeping the team in games. It is difficult to win when your bullpen consistently give up 5 or more runs. I am in the habit of saying this too shall pass, but I am not so confident at this point that the madness will pass. The Rangers need to do something about the bullpen, because if they don't, they will be lucky to finish the season hovering around .500.