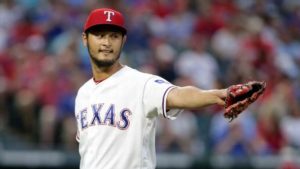 Tuesday night, Adrian Beltre hit his 450 career home run. The 401 foot bomb was the difference in the Rangers 2-1 victory against the Cleveland Indians. Adrian is now rapidly approaching the landmark 3,000 hits.
The Texas Rangers currently sit in second place in a less than impressive American League West (excluding the Astros, of course, who are impressive). The Rangers sit 12.5 games behind the Astros, and are statistically tied with the Angels and have a one game lead on the Mariners. It is not a comfortable second place.
The Rangers keep plugging along, winning some, losing some. They have 39 wins and 38 losses. Monday night they lost a game in which they had a 9-2 lead. We have already talked about the bull pen here.
So what should Rangers fans expect for the remainder of the season from this up and down team? I would expect more of the same. Adrian Beltre will get his 3000th hit before the season ends barring an injury. Elvis will have his best offensive season. Yu Darvish will not be traded by the deadline, because the Rangers will stay just in range for a playoff spot. Right now they sit fourth in the Wild Card race, just two spots out of it, and only one game out.
There will be plenty of talk about trading Joey Gallo, about trading Yu, about trading Jonathan Lucroy and many others, but I think Daniels is going to look a t this season as an anomaly and not as the norm. Knowing what I do of Daniels, I don't see him trading any key players this season.
The Rangers take on the Indians in the rubber match tonight.