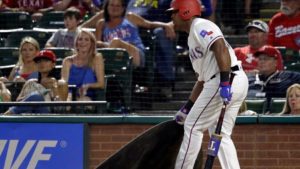 In my lifetime I have never seen a player just have such pure joy in his heart playing the game of baseball.  Well let me back up, anyone older than age 18 anyway.
What fans get to see from game to game is his antics, his humor, and his dedication to the game, but most of all his ability to have fun.  As long as you don't touch his head, life is good for Adrian Beltre.  As fans, we are witnessing history with every game that he plays, and with every at bat, he inches closer to his 3,000 hit.
What does that number mean?
It means that of the thousands and thousands of players who have played baseball professionally since they have been keeping statistics, meaning about 1890, or 127 years only 30 players have hit 3,000 times.  Names like Pete Rose, Ty Cobb (1921); Stan Musial, Carl Yastrzemski, Hank Aaron, Willie Mays, and Roberto Clemente come to mind.  Nap Lajoie and Honus Wagner were first to accomplish it, and they did it in the same year, way back in 1914.
Everyone on that list is an elite player, a Hall of Fame caliber player, although there will be debate on Alex Rodriguez, Rafael Palmeiro, and Pete Rose forever as to their eligibility for the Hall of Fame.  The fact is that their numbers are historic, especially Rose as the all-time hits leader with 4,256.  To put that into perspective as great as Beltre is, he would need 200 hits a year for six more years to reach the Pete Rose level.  At age 38 that seems bit unlikely, but anything is possible, especially so if he were to move to Designated Hitter.
Last night we saw Adrian being Adrian, and somehow an umpire got his feelings hurt.  For 20-years, he has stood on-deck, more or less behind, but slightly to the side of home plate, but never exactly on the circle.  The umpire told him to stand on the circle, so Beltre moved the circle to where he was standing.  The ump tossed him from the game disappointing thousands of fans.
It was funny, everyone thought it was funny, and especially considering the Rangers lost the game by a touchdown and a field goal.  It was that kind of game.  Yet, Adrian Beltre was targeted and it makes you wonder why.
My thought is that the umpire wanted in the history books too, even if a footnote.
Make no mistake Adrian Beltre will be a first ballot Hall of Fame inductee.  The umpire will not ever be on any ballot period.
Fans, this year's Rangers team may or may not win enough games to be even close to respectable, that is reality.  However, watching Beltre play is a treat worth every minute, and for those that tuned out early last night see what you missed!
The quest for 3,000 and beyond will hold adventure, so enjoy the ride.  It has only happened 30 other times in 127 years!