What if the Dallas Cowboys had traded Roger Staubach or Troy Aikman in their prime for a 3rd string tight end, a punt returner, and a couple of guys who had no chance of making the roster?  What would Cowboys fans think of that?
That is basically what the Texas Rangers just did with Yu Darvish.  They gained a couple of middle infielders while knowing that Elvis Andrus and Roughned Odor are both under contract until 2022.  Plus, they have a very unhappy Jurickson Profar melting at AAA, and have no place on the team for him.  They did get two pitchers, one will be at AA the other at Class A Hickory, meaning they will be years away from being major league ready if they ever do make it.  Essentially, they gave Jonathan Lucroy away, and received a long-term project for Jeremy Jeffress.
Yu Darvish was the best player on this team, and a top 10 talent in all of baseball, yet this was the best that they could get for him.
In my view this begs real question.  What direction is this team is taking?
Clearly the Rangers are banking on Roughned Odor, Nomar Mazara, and Joey Gallo to be the building blocks for the future.  Adrian Beltre is in the twilight of his career, Elvis is playing well and under contract too.  The also have Robinson Chirinos under contract for next season.  Beyond that the quality drops because John Daniels built this team around 1-year deals.
Only Cole Hamels and Martin Perez, and their above 4 ERA's, are under contract for next season.  The bullpen is stocked with strong arms, but most are throwers, not pitchers.
Don't forget Sin Soo Choo and his $23 million contract.  It is probably safe to call that expensive acquisition a complete bust.
On the farm, there are some guys that may be ready to play, they may have a first baseman, and a couple of outfielders.  What they do not have is any good starting pitching that is ready.  Those guys are at A or AA level working their way through the system.
Meanwhile the team this year has produced a lot of home runs, but are one of the 5 worst in the league in batting average, on base percentage, defense, team ERA, and one of the two worst bullpen in all of baseball.
The reality is that no team wins without pitching, good pitching!  This team without a true ace is in trouble.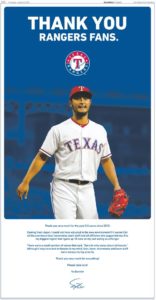 Meanwhile, the media praised Daniels for getting something for Darvish, because had he been allowed to go to free agency, turned down a qualifying offer, and subsequently signed with another team, then the best the Rangers would have been able to get would be a third round draft pick.
That thinking just amazes me, because the conventional wisdom says that if you have a top 10 player, you sign that player for as low as you can, for as long as you can.  Whatever the case you do not let that talent get away, period.  Maybe Darvish did not want to be here, maybe Daniels never got serious with the numbers, maybe he tried to low ball him.  Who knows, the fact is that he is gone and much of the future is gone with him.
This is 100% on John Daniels, and this team will struggle for the next several years because of this.  The massive trades he made to win now have come back to haunt this team.  If he was going to blow up the team, why not trade Choo and eat half his salary to free up payroll flexibility.  Why not trade Carlos Gomez, and Mike Napoli and some of those bullpen arms for as many prospects as possible.
The way this went down feels like Daniels dumped him because he had no intention of offering him a long-term deal.  My opinion is that Daniels does not believe in long-term contracts with pitchers because he thinks they are too fragile and too risky.  I respectfully, disagree if that is the way he feels.
All I can say for sure is that the full-page ad in the Dallas Morning News by Yu was a class act, and he completely nailed those that were naysayers.  That comment about looking for the strikeout is very telling, nobody had anything to say about Nolan Ryan throwing strikeouts.  The last time I checked it is the pitchers job to get the other team out, if it is a strikeout, that means there are no errors to happen on the field.  If I had Darvish talent, I would do my best to strike everyone out too considering the amount of errors this team makes.  In fact, the defense is so bad it adds another half a run to every starters ERA.
Again, it is my opinion that there is no possible way that Yu Darvish returns to Texas.  In his press conference he said that he would come back to Texas, but not for "low-money".  That is deeply telling on something about the situation.
What is Daniels plan?  Where does this team go from here?  Who knows, and I don't really think that Daniels has a real plan.  The future is hazy, and looks like it might be 4-5 years before the Rangers are a competitive relevant team again.
The bottom line is that no team that wants to be relevant trades their best player for nothing.  If you want to trade your best asset, go look at what Jimmy Johnson did for the Cowboys by trading Herschel Walker for half the Minnesota Vikings, and most of their draft picks.  Perhaps Daniels could have looked at his own big deal trade in unloading Mark Texiera.  That trade looked better then than now, but it was a good trade.
Every month all the political polls ask, if the country is on the right or wrong track.  This team is on the wrong track and is bankrupt of pitching.  In my view the coaching staff is partly to blame for the lack of effectiveness of those throwers, and poor development of the entire team.  Part of that goes to the analytical measurements that Daniels uses to run the organization.  The Oakland A's and Billy Beane use the "money-ball" approach.  How many World Series have they been to in the past 15 years?  How many division titles have they won?  Most years the A's are just not relevant.
They trade away their best players that up for a contract every year, Sonny Gray is now wearing pinstripes as a member of the Yankees.  Analytics can help, but it takes hard work, coaching, and contract management to actually build a championship team.  No team is going to win it all without outstanding pitching.
Unless, John Daniels computer is more brilliant that 120 years of baseball knowledge, the cupboard is empty.  Which brings the biggest question of all.  Is it time for John Daniels to go?  He will fire the coaches first creating more chaos, but yes I do believe he needs to go.  At a minimum the hitting and pitching coaches need to go.
By the way, celebrate the strikeout!  The are not fascist, not if you have that defense behind you anyway!
I am still a fan, I have followed this team since they came to Texas in 1972, and I will continue.  We have seen Rangers teams of the past do this exact same thing, and it seems every year the World Series looks like a "who's who" of former Rangers players and draft picks.  I guess that trend continues.  For all the naysayers, you got your wish Yu Darvish is a Dodger, John Daniels heard you, now get ready for a brand new indoor stadium, and a mediocre ball-club.  The good news is that at least the weather will be better in August inside a domed stadium.  There is certainly nothing good to get excited about for the foreseeable future beyond that.
Good Luck Yu Darvish, You Will Be Missed!