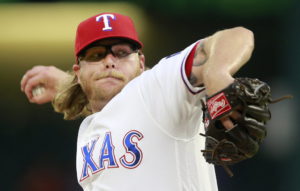 The Texas Rangers have some decisions to make today or arbitration eligible players. These players include Nick Martinez, A.J. Griffin, Jake Diekman, Keone Kela, Jurickson Profar and Ryan Rua. According to the Rangers website, the team is considering non-tendering at least one or two, possibly more of the players. For those that do not know, non-tendering means that the player will become a free agent when he is not offered a contract, or non-tendered.
As of now, the Rangers have Cole Hamels, Martin Perez, Doug Fister, Griffin and Martinez as their five in the rotation. There is not a lot of major league ready talent behind those in the minors. The Rangers have discussed moving Bush to the rotation, but I think that would be a mistake (See Neftali Feliz, Tanner Schepers). The Rangers should be buyers in this off-season, and they are really ramping up their efforts to land Japanese sensation Shohei Ohtani, and they say their chances are good.
So what should they do? I personally do not believe that either Kela or Diekman are in trouble, the Rangers need bullpen help, so why trade two good ones. The Rangers are also looking at Brandon Kintzler, who was traded from the Twins to the Nats last season. He has a career ERA of 3.26, and last season he had an ERA of 3.03 with 29 saves out of 35 opportunities.
Who could be in trouble? I believe they would want something in return for Profar, so he won't be let go. Ryan Rua is a good player, but I could see him, and then either Griffin or Martinez let go depending on what they can do in free agency. Free agent signings are all about making the money work.
We will know soon enough, the Rangers have to make a decision tonight according to T.R. Sullivan.