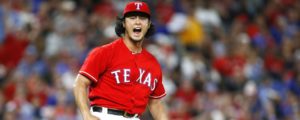 In the last seven to ten days, the Rangers have lost Cole Hamels and Carlos Gomez to injury. Both of those things should be huge blows to the organization, but somehow the Rangers have managed to win seven in a row. They have had come from behind wins as well as just plain old wins. The team has looked focused, determined, and, well, good.
I personally began writing the teams obituary a little over a week ago. I thought it was over. They were in last place, and they looked like they had no chance of recovery. Now, the bullpen is good, the defense is good, and the starting pitching has been good all along. They are also getting timely hitting, something they could not do the first six months of the season.
The main problem that the Rangers have at the moment are the Houston Astros. They are winning at an alarming rate. The Astros are 28-12 while the Rangers are now 20-20. The Angels are 21-21, so they are technically tied for second. If the Rangers want any chance of overtaking the Astros  before the season ends, they need the Astros to go on a big losing streak.
They can't keep winning seven out of ever ten games played, but if they can win two out of every three the majority of the time, they should be able to start creeping up on those pesky Astros. I am sure that Houston fans are really enjoying this season so far. That is fine. They can enjoy it all they want, but they do need to remember that this Rangers team has owned them the last three or four seasons, and they still have a whole lot of head to head games to play.
Sit back and enjoy the run that the Rangers are on right now. It won't last forever, but it has been fun while it is going on.